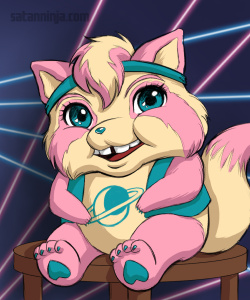 Age:

?

Height:

?

Occupation:

Space adventurer.

Favorite Films:

Earth films with teen drama, like The Saturday Gang and I'd Rather Die.

Favorite Music:

Space heavy metal.

Main Interests/Hobbies:

Tinkering with tech, drinking, and collecting statues.
She's a space-tanuki (a magical raccoon dog creature from Japenese folklore) that can apparently only speak one word, though her partner Ket is somehow able to understand its various meanings.