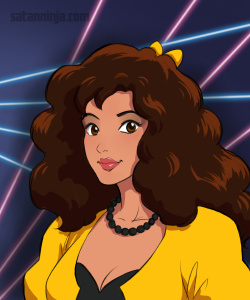 Age:

17

Height:

5'3"

Occupation:

High school senior. Foreign exchange student.

Favorite Films:

Slasher movies like Camp Killer Goalie and Bad Dream Boulevard.

Favorite Music:

Rock 'n' roll like The Automobiles and DoubleBeard
Alpha.

Main Interests/Hobbies:

Painting and drawing.
A foreign exchange student who's been attending River City High for the past five months while living with Corey Cusack's family. Since she lives with Corey and he drives her to and from school every day, he's gotten the idea that they're "basically an item" despite them never really talking. Corey's parents have arranged for Carmen to be his prom date, without ever asking for her input on the matter. She spends most of her time in the guest bedroom, doing art.