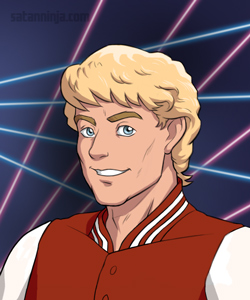 Age:

19

Height:

6'1"

Occupation:

College freshman. Jock supreme.

Favorite Films:

Action films that don't have any "nerdy shit" in them, like Best Jet and Psycho Veteran III.

Favorite Music:

Whatever's playing on the Top 40 countdown. His current favorite band is Howie Lloyd and the Updates.

Main Interests/Hobbies:

Sex, working out, football, cruising in his sports cars, and flexing in front of the mirror.
Dean is the son of Michael Slater (CEO of SlateCorp and River City's most wealthy resident). After Dean was kicked out of private school, his parents gave up and enrolled him at River City High with the commoners. There, he became the star quarterback of the River City Redcocks, boyfriend to Veronica LeBrock, and the bane of every nerd in school. He now attends River City University and plays football for the River City Renegades. His best friend Trent Sheedy is almost always at his side.