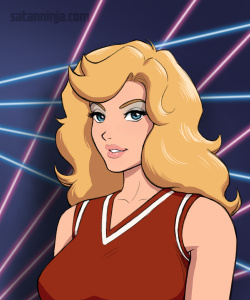 Age:

18

Height:

5'8"

Occupation:

High school senior. Head cheerleader.

Favorite Films:

Filthy Moves, Flashing Dancer, and whatever's easy to fool around during.

Favorite Music:

Her favorite is the provocative dance-pop artist Sexdonna, but she likes anything upbeat that she can dance to. She also likes some glam metal bands like Splintter and Nightshade, because those guys are, like, totally hot and stuff.

Main Interests/Hobbies:

Sex, cheerleading, shopping at the mall, exercising, dancing, and posing in front of the mirror.
Veronica is the epitome of a blonde bimbo. Growing up an only child in the California valley, she was spoiled by her parents. When she was thirteen, an earthquake scare convinced her parents to pack up and move to River City, Michigan. She's been the object of Eddie's infatuation ever since he first saw her in seventh grade. Unfortunately for him, she only seems to date popular guys with sports cars, like her most recent boyfriend, Dean Slater. Her best friend is Alex's older sister, Heather.