September 20, 2015 - 4:06am by Adam Dravian
Things have gotten pretty quiet around here, we know. It's the calm before the storm.
My debut novel is coming out this next October, so Jessica's been editing it and whipping up illustrations for it. But don't worry, most of her time has been going toward working on the third issue of Satan Ninja 198X. She's mostly been focusing on the Issue 3 pages, which are looking awesome, but now she's shifted focus and has begun kicking ass on the cover. Here's a little preview: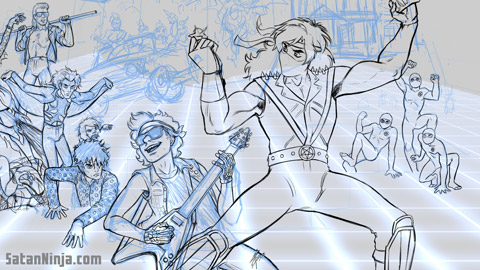 And then we have a couple secret Satan Ninja-related projects that we've been working on. It looks like the big one will finally be ready to be unleashed sometime in October, at which time we'll finally be coming off our hiatus.
Like always, you can use the icons on the sidebar to follow us on social media or subscribe to the mailing list so you'll know as soon as we resume updating the comic.
Comments
Tagged as