July 12, 2015 - 6:28am by Adam Dravian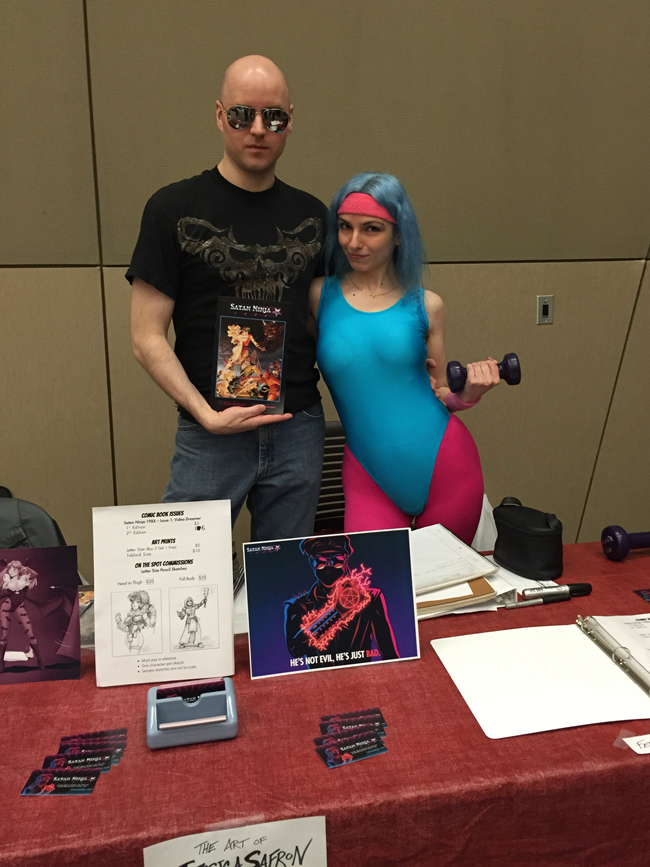 For the third weekend in a row, Jessica donned her thong-a-licious '80s-style leotard as we tabled at yet another convention.
This time we appeared at GR8bit Live, a gaming-centric 1-day convention located right in our home city of Grand Rapids, MI. Not only was it just a few minutes away from us, but it also didn't cost us anything to secure a vending table, so that was awesome. Speaking of our table, whoever assigned the tables for the vendors placed us directly next to the table for Bethany Christian Services, which is a local Christian organization that deals with social services. Fortunately, the young ladies seated at that table were totally good sports about us eviling up their space. Although they did pack up and leave after only a couple hours...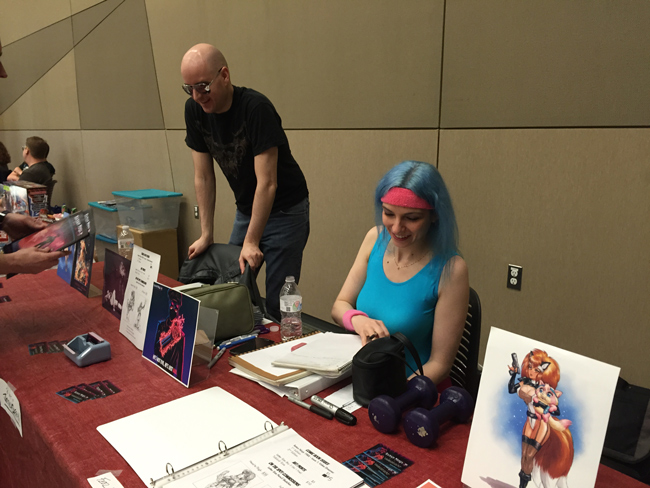 GR8bit Live was a way more low key convention than the one we attended last week, Anime Midwest, and though foot traffic through the vendor hall was really light through most of the day, we still had quite a few people check out our stuff, and had some friends stop by (and Jessica's parents). Last weekend, Jessica was swamped with commissions, but this time she didn't get a single one, nor did we sell any art prints. I think since this convention was free to attend, there were a lot of people who simply wandered in out of idle curiosity, so it was quite different from the typical art-print buying, commission-wanting convention crowd. However, Alexis Royce, one of our radical artist-alley buddies we met last week at Anime Midwest was there, so she and Jessica decided to sketch each other's characters. Here's the awesome image Alexis drew of Eddie and Psycho Sam: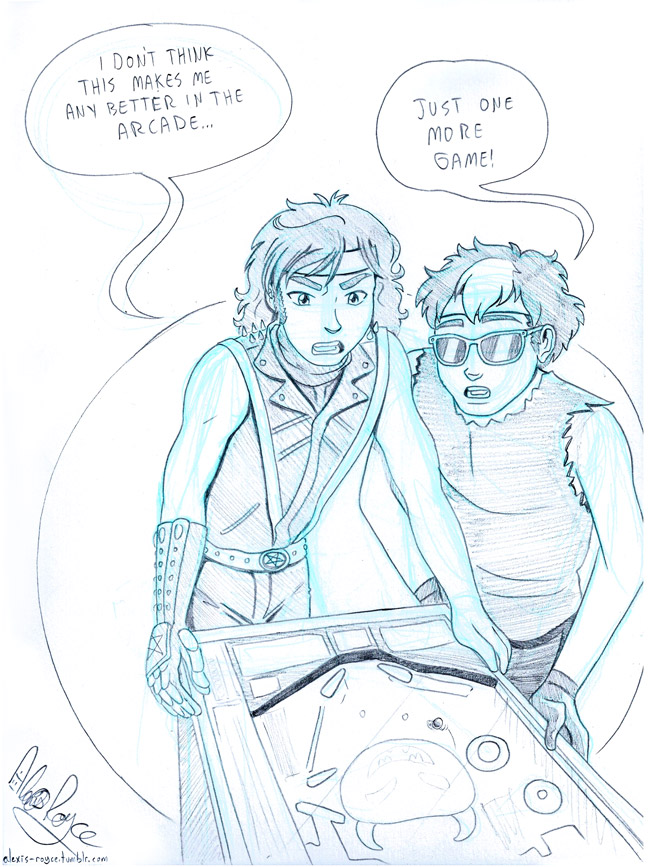 Even though we didn't make too many sales, people took a shitload of business cards and we did sell some comics, so it was definitely worth us doing it (especially since it cost us nothing). In fact, we're now totally sold out of the revamped Issue 1, including the copies with the alternate "Double Dudes" cover, and only have a handful of our original 1st edition Issue 1s left. We'll be ordering a bunch more comics soon, and then we'll probably make 'em available to purchase through this website.
Podcasts seemed to be the hip thing of the day. We had four different people talk to us about possibly being guests on their geek-related podcasts, so hopefully at least one of those pans out. We'll let you know.
As we've mentioned in the past, the biggest comic convention in our area is Grand Rapids Comic Con, but they have absurdly strict content rules that prevent us from tabling there. I noticed a guy at GR8Bit Live wearing a Grand Rapids Comic Con T-shirt, so I thought I'd talk to him a bit about it. The guy turned out to be the head-honcho of the Grand Rapids Comic Con. He took a look at our stuff and confirmed our suspicions that we wouldn't be welcome at his con, and that his artist alley restrictions will never change. He said it's nothing personal, it's just that his convention has a reputation for being the most family-friendly comic convention around, which works well for him in the conservative and religious environment of Grand Rapids. So that was a bummer, but at least Jessica and I got a chance to vent our frustrations to the guy in charge. To his credit, he said we'd be welcome to give out fliers at his convention (as long as we clearly label our stuff as being unsafe for kids), and he offered to put us into contact with conventions we'd be more suitable for. He also said we'd be welcome if we cleaned up our stuff to tone down the sex and violence, but fuck that.
Speaking of our stuff being inappropriate, here's Jessica's dad feigning shock at our comic: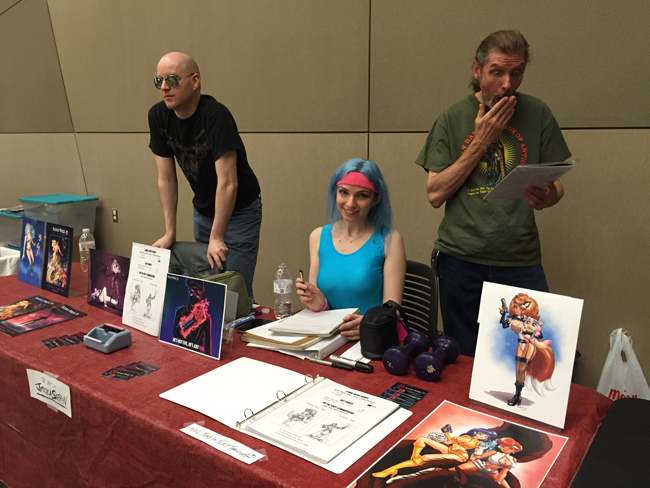 So anyway, in the past three weeks we've tabled at a small comic convention, a medium-sized anime convention, and now a small video game convention. The reaction to Satan Ninja from con-attendees was pretty similar at all of them. Most people ignored us, several people seemed intrigued and would walk away with a business card and a vow to check out our site, and every so often we'd get someone who'd flip out over how awesome our comic is and buy a copy or two, usually wanting them signed. Since our comic has such a niche appeal, it's really a numbers game, so it seems that small conventions aren't likely to be worth it for us (unless they're local, like GR8Bit Live). We've yet to table at a really big convention, but I'm eager to see how well we'd do.
It'll be a awhile before our next convention appearance, but next time we should be super prepared, so it should be rad as hell.
Comments
Tagged as